From Wikipedia, the free encyclopedia
Suryapet (Telugu: సూర్యాపేట) is one of the major towns in Nalgonda district in India in the state of Andhra Pradesh. It is sometimes referred to as Bhanupuri (Telugu: భానుపురి), it is equidistant from Hyderabad and Vijayawada. Suryapet is spread over an area of 134 km² and divided into 41 municipal wards as a special grade municipality. There are 44 notified slum areas. Apart from the city population, it has a floating population of approximately 40,000 from the neighboring villages daily.
It has won many awards for its cleanliness from the Andhra Pradesh government as well as the Indian government. Suryapet is a Revenue division.
History
Suryapet is called Gateway of Telangana This town was once a small site for a group of inhabitants. At that time the name was "Bhanupuri". Later it was renamed to its current name.
This town has the traces of rich history. Pillalamarri temples with intricately carved stone pillars stand testimony to the architectural style of the Kakatiya period. Trescoes and inscriptions tell the tales of the rulers of the Kakatiya dynasty. Some temples and remains of fortified walls and buildings can be found near Undrugonda.
This town has the active participation in the Telangana movement Razakar against Nizam rulers. To enhance its name and its legacy, there is another gem in the Surya pet crown. The market yard which is the biggest in total Nalgonda district, in fact, second largest (in business) in Telengana after Warangal
Achievements
Suryapet has attracted Global attention for the transformation that has been brought by the 'effective solid waste management' techniques adopted by the Suryapet Municipality.
Suryapet secured the ISO 14001-2004 certificate for establishing and maintaining an environment-friendly system for solid waste disposal. Suryapet is the first municipality in the country to receive such a certificate. The municipality bagged Greentech Foundation's Excellence Award and won the Supreme Court's appreciation for proper solid waste management. The United Nations Human Settlements Programme lauded the initiative taken by the municipality as "good practice".[citation needed]
Demographics
The population of the town is about 150,000 (2008). As of the 2001 India census,[1] Suryapet had a population of 94,797. Males constitute 52% of the population and females 48%. Suryapet has an average literacy rate of 73%, higher than the national average of 59.5%: male literacy is 80%, and female literacy is 65%. In Suryapet, 11% of the population is under 6 years of age.
Distance
Distance from various cities:
State Capital – Hyderabad 133 km
Dist HQ – Nalgonda 46 km
Other cities:
Vijayawada – 140 km
Khammam – 60 km
Warangal – 90 km
Guntur – 150 km
Jangaon – 86 km
Other towns in Nalgonda district
Miryalaguda – 50 km
Bhongir – 60 km
Kodad – 43 km
Facilities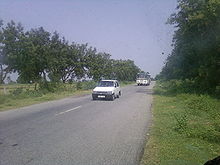 Education: There are various engineering colleges and degree colleges in the town. One famous Engineering college is Sri Venkateswara Engg. College. Some Other degree colleges are Sri Venkateswara Deg. College, RKLK degree college, Sri Sai Degree College, Rajaram Memorial Junior & Degree College, and many more private degree colleges. There are 90 schools in Suryapet. It is a good educational center in Telangana. Transportation: Primary transportation to and from the city is provided by APSRTC, a state-run road transport corporation
APSRTC has 3 main bus stands in Suryapet.
Hi-tech Bus stand: Mainly for Garuda, Hi-tech, and Luxury buses, which provide services to major cities and towns in the state and main cities outside the state of Andhra Pradesh.
New Bus stand: For Express and Ordinary buses which are going for nearest towns
Old Bus stand: For Ordinary buses which are going for nearest towns and villages
Suryapet depot is having a larger fleet of buses. There are many autorickshaws available to commute within the town.
Hospitals: Suryapet is famous for hospitals and their services. Many hospitals such as Govt. Hospital,
Lions Club eye hospital and more than 100 private hospitals offer services to the localities. There is a new agriculture market which is about 25 acres (100,000 m2) of land is ready to open for farmers on KMM Road.
Restaurants & Hotels:
Hotel7 is on the national highway.
Mamatha.
Hotel Balaji Grand.
MNR Hotels
Mayuri Restaurant & Hotels
Mainly it is having a lot of dabas on NH 9 Banks: Many banks are operating through their branches in Suryapet.
Nagarjuna Grameena Bank (APGVB) (One of the Biggest Rural Banks of India)
Sahara Bank
Lakshmi Vilas Bank
APCOB, The Nalgonda Dist Co-operative bank
Sudha Bank etc…
Places of worship: In and around the city there are many places to worship. Temples of Hanuma, Shiva, Santhoshi Maatha, Saibaba, Venkateswara, Krishna, and many mosques and churches are always open to the religious folks.
'Internet centers'File: Bold text :
Internet centers Surya pet
FiberInternetWorld (M.G. Road) Shyamkumar Mucha 9014222011
Entertainment: There are 5 theatres which are always ready to entertain the moviegoers
list of theatres include:
Kishore 70 MM (Ac, DTS)
Navya 70 MM (Ac, DTS)
VRDR Cinemas 70 MM/Sridevi Talkies (Previously) (AC, DTS)
Alankar 35 MM (Ac, DTS)
Teja Movie Max 35 MM/Lakshmi Talkies (Previously) (Ac, DTS)
Media:
Print Media: All major newspapers are circulated in the city. Some local newspapers are published within the city.
TV/RADIO: (So many journalists from Suryapet playing a key role in media)
National and State radio stations. RADIO MIRCHI, S.FM
All major international, national, state and local television channels[2]
WWW: Many Internet centers are located within the city. Also, there are some internet service providers like Airtel, BSNL, etc…
Places of interest
Pillalamarri, one of the oldest Hindu Temples in Suryapet, Nalgonda district
YENDLAPALLY: This is a very beautiful and big village in Suryapet Mandal, with lots of greenery, lakes, and canals, and famous for its lush paddy fields and the two seasons of monsoons which support the cultivation of rice. The fields which stretch across the length and breadth, and famous for Ancient Shivalayam (1200 years old), Every year 'SHIVARATHRI THIRANALA', Shivalayam is situated at the bank of Musi River and in the middle of paddy fields, and 'Saibaba' temple,'Anjaneya Swamy' temple, there is a big port named Kota Buruju, constructed as a strategic tower with big stones by the rulers of the Kakatiya Empires. There are many facilities in village-like: The Andhra Pradesh State Cooperative Bank Limited, Social welfare Boys' Hostel, Govt. High School, Veterinary Hospital, Licensed Medical Shop, Mineral Water Plant, and nearby GAYATRI POWER, Parboiled Rice Mills, Platic & Rubber Industries, etc., Musi Reservoir is 5 km from the village, and this village is just 12 kilometers (15 minutes drive) from SURYAPET Town.
Moosi reservoir: Moosi reservoir is 17 km away from Suryapet. It is a local tourist attraction especially when the gates are opened during monsoon season. The reservoir provides water for irrigation and as well as drinking water to Suryapet town. Fishing is done using professional nets. Every year fishing rights are auctioned to the highest bidder. A fixed amount of money is paid to all male members in each family in the surrounding villages to compensate for their livelihood.
Durajpalli jathar:duraj palli jathara is one of the biggest jatahras in India.
every two years in February. nearly one crore people visit this carnival. This is the second biggest jathara in India, first is sammakka, sarakka in Warangal.
Undrugonda: Devotional place, famous for approx. 1000-year-old Laxmin Narasimha Swamy temple. It's a hilly area. The god here is believed to be powerful. Not only Lakshmi Narasimhaswamy temple, but also many temples are in and near Undrugonda.
Phanigiri: Buddhist Centres
PillalaMarri: it is one of the oldest Lord Shiva temples which is considered to be 1000 years old. Pillalamarri, being the birthplace of the famous Telugu poet Pillamarri Pina Virabhadrudu, is not only historically but also culturally and religiously significant.
Old Shivalayam Temple: This is a historical temple in the old city.
Hanuman Temple: This well-known temple is located in Rajeev Nagar, near M.R.O Office. It is very famous for nearly about 40 years.
Church: Suryapet church is one of the famous churches in the region
Durajpally: One of the very famous Jatara in Telangana celebrated for the past 400 years.
Nimmekal: There is a "Dandu Mysamma Devi" temple. This is 10 km from Suryapet and very famous
Chandupatla this is 13 kilometers from Suryapet. famous communist center. devulapalli venkateswar rao , parepalli janaiah and other leaders own village.
Pallair, this is a very beautiful village, also a reservoir in Khammam district 25 kilometers from
Suryapet
Nagulapahad ( Narayanagudem/Dubbagudem ): This village is about 18 km South of Suryapet, famous for its temples. There are two Ancient temples (Trilingeswara Aalayam (Shivalayam) and Veerabhadreswara Aalayam) in this village, founded by the "Reddy Rajas" in the Kakatiya's era…They got the amazing art and beautiful sculptures carved on the black stone…These two temples are similar to the Warangal's "Thousand pillar temple"…and Pillalamarri Temple. These temples are famous for Every year SHIVARATHRI 'Jatara' too. TEMPLES VIDEOS [1] [2]
Economy
Suryapet's economy is predominantly agricultural. Agricultural market yard in Suryapet is one of busiest and biggest in the state. It is one of the major trading centers for farmers from the Telangana region. Suryapet has several small- to medium-scale industries.
Industrial Estate: To the east of the city, some area is entirely dedicated to the industries and is popularly known as Industrial Estate. In and around this area there are industries like
Sun Mineral water.
Suven Life Science
Eenadu Info (including Eenadu newspaper, Suryapet unit)
Roopa Plastic (PVC) Industries
Sneha Chemicals Pvt. Ltd
Sudhakar Polymers ltd
ESSGE Plastics
Raathi Pipes & Profiles Ltd.
Sudahaker PVChttp://www.sudhakarpipes.com/
suwarna pvc
Gayathri powers
Srinidhi Communications
Raghavendra Industries
galaxy group ltd
Market yard: Agricultural market yard in Suryapet is one of busiest and biggest in the state
NH9: There will be a lot of business going on within the city as it is located on the National Highway (NH9)
One large ward in the s.r.p.t is Annadurai Nagar where every "bathukamma" festival being celebrated very well. It is near the Balaji temple, Santhoshimatha temple, Indra park.
NGO organizations
Gamana Voluntary Organization,
Arthik Samata Mandal,
M.V. Foundation,
aleti autam world Spread,
Scan,
Motive,
Aluri Moses James Service,
Pathipaka Radha Krishna NGO,
Dara Ramesh Foundation,
Sun Shine Society for Deaf & M.R.,
Freedom foundation,
Lions Eye Hospital
Vaddanam Kiran